Force the Issue NJ Updates
As we near the end of 2021 and the second full year of the COVID-19 global pandemic, it is important to take stock of the previous twelve months and all that we have experienced for better or worse in the past year.  However, it is more important to take the COVID-19 vaccine and booster, so do that first, please!
2021 was a challenging year for our organization, though not without some notable progress.  We started our first podcast, The Garden State Commune in February, and are eager to return with more episodes, more consistently in 2022.  In June, we made significant improvements to our interactive Directory of Progressive & Community Organizations to make it easier, and dare we say – even fun to add organizations you support.   We expect the directory to include over 200 organizations by the end of 2021 and –  with your help – could double that in 2022, creating a real map for progressive change in the Garden State!  Throughout the year, we were proud to profile and promote some amazing progressive candidates throughout New Jersey.
One thing we recognized in 2021 was that building a stronger and more diverse team would be essential to our continued growth as an organization.  Sarah Dawson joined our team as a volunteer early in the year, and we were so impressed by her intelligence and tenacity, we invited her to join our Board of Directors this past August.  As Director of Marketing, Sarah is now leading several important projects for us, which we are excited to see come to fruition in 2022.
One of these projects is helping to lead the recruitment of more volunteers and leaders into our organization.  We are excited to have recently welcomed a few new writers who should be debuting on our platforms early next year.  In addition to content creators, we are hoping to recruit a range of technical, creative and administrative talent to help our organization reach it's full potential.  We believe "many hands make light work" and are hoping to build a team sourced from every community and corner of New Jersey.  Please review our opportunities here and don't hesitate to reach out with any questions or comments – we'd love to hear from you.
If a volunteer or leadership commitment isn't right for you, then there are still plenty of quick and easy ways you can support us now and throughout the new year:
We appreciate all you have done to support Force the Issue NJ!  Thank you!
NJ Progressive Accomplishments

With the pandemic rightfully dominating the news cycle, it's become a bit too easy to let other news and even major events fall into the memory-hole.  New Jersey progressives – by which we include activists, organizers, voters and volunteers alike – had a lot to be proud of in the past year and we wanted to spotlight a couple of the bigger stories from 2021 to remind our all of our readers that their engagement matters, and made a real difference – not just in the political life of the state, but in the lives of our neighbors, friends and families.
Immigration Detention is (Mostly) Dead in New Jersey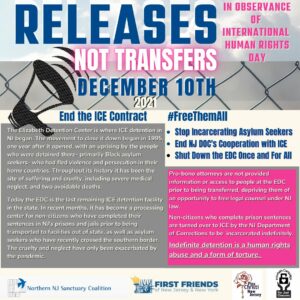 Following years of intense pressure, immigrant detention is now dead in New Jersey – at least on the county level.  Governor Murphy signed A5207, a law banning jails and detention centers from entering into, renewing or extending immigration detention agreements with Immigration & Customs Enforcement (ICE), becoming the 5th state in the country to do so.  Bergen County finally joined Hudson and Essex Counties in ending their agreements with ICE.
The final holdout is the privately operated Elizabeth Detention Center which extended it's agreement with ICE until 2023 before the new law took effect, despite being sued by the owners of the facility who are trying to break the lease.  In any event, under the new law they will no longer be permitted to extend the contract or enter any new contracts.  Despite the efforts of complicit Democratic machine politicians to now rewrite the history, it is clear that all three caved to the effective pressure of a broad coalition of activists, including most boldly the activism of our undocumented neighbors themselves.
The action now moves entirely to the federal level, with President Joe Biden personally responsible for all remaining immigrant detention in the State of New Jersey, including the transfer, rather than the release of detainees who were held in the county facilities prior to the closure of those facilities and the new law.  The Interfaith Campaign for Just Closures is a new coalition formed to put pressure on New Jersey's elected federal officials and the President to release remaining detainees (including those already transferred) back to their families and communities and to radically restructure immigrant detention on a nationwide basis via HR 536, the "New Way Forward" Act.  To date, only Representative Bonnie Watson-Coleman has signed on to the bill.  Please visit this link for more information, including ways to support these efforts and provide direct support to detainees.
Cannabis Legalization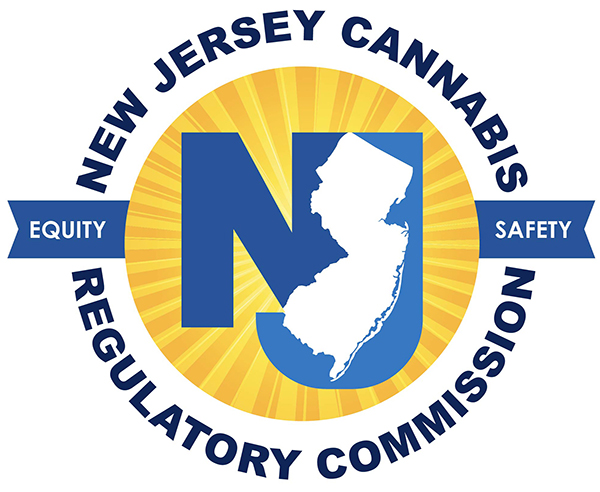 New Jersey took a huge step in the direction of progressive policy, criminal justice reform and social justice when we voted to legalize marijuana in 2020.  The legislation to facilitate the legalization was passed – with no shortage of drama – earlier this year.  So what is going on with the implementation of marijuana legalization?  Is it now legal?  Where are the new businesses?  Have the social justice portions of the bill been implemented?  Lets attempt to summarize some of the key points and current events:
Personal Use
You can use marijuana legally in New Jersey – however purchasing it will not be legal until business licenses have been awarded.  Note that the decision as to whether marijuana use is permitted on private property (for example, a home you rent or outside a business establishment) is a decision for the property owner.  Additionally smoking marijuana in public places remains subject to the same laws regarding smoking tobacco products and municipalities may impose additional ordinances.
Cannabis Businesses
Applications are opening on a rolling basis for the various types of businesses that will populate the legal marijuana industry in New Jersey.  Licensing applications for cultivators, manufacturers, and testing laboratories are available now.  Applications for retailers will begin in March of 2022.   You can find more information via the Cannabis Regulatory Commission here.
Municipalities
Roughly 70% of New Jersey municipalities have opted out of hosting any cannabis related businesses and a few dozen more have opted out of specific businesses, leaving about 100 municipalities where all cannabis related businesses will be permitted.  Here is a helpful, though possibly dated map of what will be happening where in New Jersey.   It should be noted that municipalities can opt back in at any time, and that opting out does not effect your personal rights under the law nor does it prohibit the delivery or transport of products to or through that municipality – it merely impacts the hosting of the businesses themselves.
Criminal Justice Reform
The New Jersey Court System has reported that as of September it had expunged 360,000 marijuana related cases, meaning that past offenses are wiped off the record and any continuing sentencing from past cases has been cancelled.  If you believe this expungement may apply to you, we strongly recommend you review the information available from the courts to understand the process.

At the Ballot Box

2021 Election Results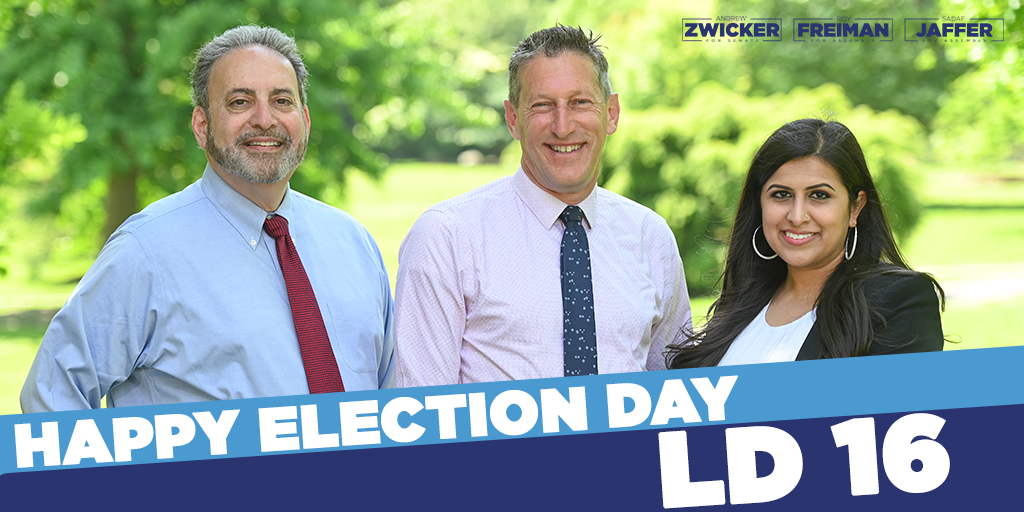 From a progressive perspective, the 2021 election cycle in New Jersey was very successful on the statewide level.  Based on his strong progressive voting record and the state's improving demographics; Governor Murphy became the first Democratic Governor to be re-elected in 44 years. While Republicans made some modest gains in the state legislature, most of those gains came at the expense of South Jersey political boss George Norcross's underlings, including most notably, the Senate President Stephen Sweeney, who thoroughly embarrassed himself by losing to a virtually unknown fringe candidate, proving that he never had any real constituency support.
Though some worthy progressive Democrats like Christine Clarke sadly fell short as well, we were thrilled to see the team of Andrew Zwicker, Sadaf Jaffer and Roy Freiman flip a Republican district to the blue column, partially off-setting the South Jersey losses.  Though both the local and national media strained admirably to paint this as a disaster for Democrats, there is no doubt party is left with a stronger, if slightly smaller majority.
Congressional Redistricting
This majority will only grow stronger and larger with the conclusion of the redistricting process, as deeply flawed as it is.  On the Congressional Level, Democrats have built a strong 9-3 majority map, largely designed to shore up Democratic majorities in the 3rd, 5th, and 11th districts.  This will leave Rep. Malinowski with an uphill battle to keep the seat in the 7th Congressional District, though it will be by no means an impossible task – particularly if Democratic base voters are motivated and turn out.  State Legislative Redistricting will occur in March.
#BetterBallotsNJ and #AbolishtheLine Update
Force the Issue NJ is a proud supporter of the Good Government Coalition of NJ's BetterBallotsNJ coalition as well as the ongoing lawsuit seeking to have the current ballot design deemed unconstitutional in federal court.  There has been slow and steady progress on both fronts in 2021.
For the BBNJ coalition the story has been one of growth – the coalition now includes 17 statewide organizations, 54 member organizations, 8 party organizations and 37 current or former candidates, including a few sitting legislators.  If you haven't signed on as a campaign ambassador or if your organization has not yet signed on as a supporter, we strongly recommend you get involved today.
As for the lawsuit, the story has been one of survival, meaning the plaintiff challengers have to date survived every attempt by the defendants to throw the case out of court.   We strongly recommend reading the EPIC opposition brief to the defendant's motion to dismiss and supporting the NJ Fair Ballot Legal Defense Fund to keep the hard-working attorneys going strong.
None of the these victories happened by accident.  Nor were they result of the fiat of a benevolent leader.  They were the result of people just like you finding time to support amazing organizers right here in New Jersey.  They were the result of those same organizers finding ways to collaborate to maximize their influence and their impact.  The fact is that in the five years since Force the Issue NJ started, New Jersey has gone from a moderately liberal state to a passionately progressive one.  And that is no accident either.  It is thanks to you.
We look forward to fighting with you in 2022.
Happy New Year!