Reality Check-In
For those seeking to elect progressives in New Jersey, the annual June primary should be the main event on the election calendar – particularly in the odd-numbered years like this one when all State Assembly and Senate seats are up for grabs.  Sadly, due to the dismal state of democracy in the Garden State expressed through the ballot line and endorsement process, what should be a vibrant and exciting process can too often seem like a joyless and futile affair.  Even with a fairly popular gubernatorial candidate heading the ticket, we expect to see approximately 10-15% turn-out on June 8th.  Pathetic.
However, that same low turn-out is one of the reasons that progressive challengers in 2021 may have an outside chance of surprising the darlings of the political machine this June.  Another reason for hope is the growing strength of the independent progressive movement in the Garden State, where despite all odds, insurgent candidates are starting to make a dent in the rusty armor of the crusty New Jersey political establishment, and even more surprisingly – ethical Democrats are starting to speak out for BetterBallots in New Jersey.

So while 2021 may or may not be the year the dam breaks, that break is coming as long as progressive activists across the state continue to join their efforts and work cooperatively to build an inclusive, sustainable and powerful movement.  While that process may appear to occur in frustrating fits and starts – there is no doubt that something is indeed building, and that is why despite the obstacles we face, it is imperative we continue moving forward, joining forces and staying positive.  There are many signs of hope for progress in New Jersey and we'll talk about some of them below.
Breaking the Ballot Line
As referred to above, the movement to end the ballot line in New Jersey has been progressing exponentially.  After picking up some steamy support from NJ Working Families Alliance and others in January, the federal lawsuit to end the ballot line continues to progress through the courts.  We encourage everyone to support the Fair Ballot Legal Defense Fund to ensure that superstar attorneys Brett Pugach, Yael Bromberg and Flavio Komuves can keep this fight going!  You can read their excellent brief here
In this manner, New Jersey's laws and practices surrounding ballot order and ballot  design in primary elections, as implemented by county clerks, injure Plaintiffs' First and  Fourteenth Amendment rights related to the fundamental right to vote, equal protection, and  freedom of association.
On the political end of the spectrum, the Good Government Coalition of New Jersey can now count six current state legislators as having come out against the ballot line system.  In the NJ State Assembly – Dan Benson, Shavonda Sumter, Valerie Vainieri Huttle, Nicholas Chiaravalloti and Andrew Zwicker have now come out in support of free and fair elections in New Jersey, and they are joined by State Senator Shirley Turner.  Let's GOOOOOO!!!!!

While all six of the above are Democrats, this basic issue of free and fair elections impacts Republicans as well, and we note that the Plainfield Republican City Committee, as well as legislative candidates William H. Michelson, Serena DiMaso and Richard Super have also come out in support of abolishing the county line!
You can support the fine work of GGCNJ here and sign on to be a campaign ambassador at this link.
Medicare 4 All Local Resolutions
Another place we are seeing some positive movement is the campaign led by Our Revolution New Jersey to pass local resolutions in support of Medicare 4 All – a truly universal healthcare solution that will guarantee healthcare to all Americans regardless of zip code, income or conditions.  New Jersey's capitol, Trenton passed a resolution on May 27th to become the 9th government body in the Garden state to officially pass a Medicare 4 All Resolution, joining Red Bank, Maplewood, Essex County, Dover, West Orange, Scotch Plains Princeton, and Fort Lee.  We hear a 10th might be on the way!  If you are interested in joining these efforts – and maybe even having your own town, city or county pass it's own resolution, email ORNJ for more information!
2021 Progressive Primary Candidates
On Tuesday, June 8th – we'll have another big chance to strike a blow for a progressive New Jersey.  Excellent progressive candidates are running up and down the ballot throughout North, South and Central Jersey.  We tried to collect as many as possible here, so be sure to check ALL COLUMNS of your ballot to see if you'll have the opportunity to elect one of the real difference makers listed below:
State Senate & Assembly:
If you live in Bergen County, and specifically the towns of Alpine, Bogota, Cresskill, Englewood, Englewood Cliffs, Fort Lee, Hackensack, Leonia, Northvale, Palisades Park, Rockleigh, Teaneck and Tenafly – then you live in New Jersey's 37th legislative district where one of the most competitive races of this primary season is happening.  Current assembly-woman Valerie Vainieri-Huttle is running an insurgent campaign against the political machine which formerly supported her, and has now come out in support of abolishing the ballot line.  She'll be leading a slate which includes Assembly candidates Gervonn Romney Rice and Lauren Kohn Dayton.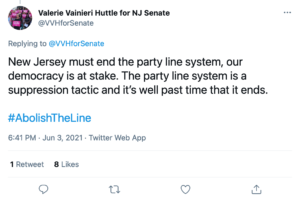 New Jersey's 16th legislative district covers parts of four counties – Huntderdon, Mercer, Middlesex and Somerset, including the towns of Branchburg, Delaware, Flemington, Hillsborough, Manville, Millstone (Somerset), Montgomery, Princeton, Raritan (Hunterdon), Readington, Rocky Hill, Somerville, South Brunswick and Stockton.  Two truly inspiring candidates, Montgomery Township Mayor Sadaf Jaffer and Faris Zwirahn are challenging for the Assembly seats, as current Assemblyman Andrew Zwicker's run for the State Senate nomination is supported by a broad cross-section of progressive, labor and establishment groups in an effort to unseat the Republican incumbent in November.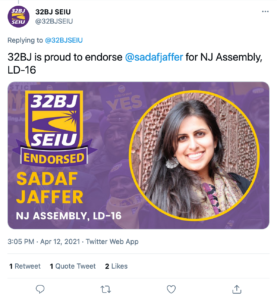 While running unopposed – we definitely also want to shout out Christine Clarke in LD26, a dedicated activist running to unseat Republican whip Joseph Pennacchio in November.  Like Andrew Zwicker above, she has a strong cross-section of both progressive and establishment party support for the general election effort.  The 26th Legislative District is not only this writer's hometown district (Go Mustangs) but one of the main targets of the much-to-be-feared #blorris movement to finally bring progressive leadership to Morris County.  The district also includes nearby parts of Essex and Passaic Counties, containing the towns of Butler, Fairfield (Essex), Jefferson, Kinnelon, Lincoln Park, Montville, Morris Plains, North Caldwell, Parsippany-Troy Hills, Rockaway Township, Verona, West Caldwell and West Milford.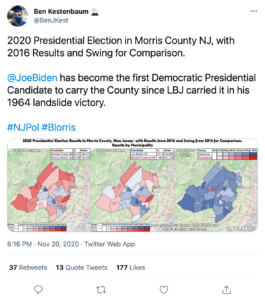 Committee Candidates & Other Key Races
As usual, our coalition partners in the Good Government Coalition of New Jersey have issued their endorsements for the June 8th primary based on a questionnaire on various good government issues in the Garden State, including most notably the Ballot Line issue referenced above.  Their list of endorsed candidates can be found here.
We wanted to take a moment to highlight some other key races further down the ballot you should be aware of, such as Mico Lucide running for Atlantic County Clerk, Kate Triggiano and Hazim Yassin running for re-election in Red Bank, and Elton Custis for Mayor of Camden, as well as Carmen Lozada, Carla Benson, and Hector Rojas running for Camden City Council At-Large seats.
At the bottom of your ballot, and this article – last but certainly not least – some of the most important races in the June 8th Primary will be run at the hyper-local level.  Along with November's nominees, the primary election is when we elect party committee members who form the heart of the Democratic Party throughout New Jersey.  These are the members who can re-shape the direction of the New Jersey State Democratic Committee as well as the city and county politics that govern your neighborhood.  Accordingly two candidates are elected on June 8th representing each of all seventy bazillion election districts in New Jersey!
These folks are literally your neighbors, and they will literally represent you in the city, county and state Democratic Party.  Progressive reform begins and ends with these committees and therefore progressive representation is crucial.  More and more – progressive groups in New Jersey are starting to recognize this and are supporting candidates for these key positions:
Good Government Coalition of New Jersey endorsed candidates from all around the state can be found towards the bottom of this page.
The Progressive Democrats of Hudson County have their own slate of candidates running in Hudson County and have been working up quite a tweetstorm about these wonderful folks.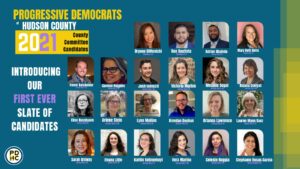 Our friends in the Hudson County Progressive Alliance have endorsed many of these candidates and more – you can check out their list here!
The South Jersey Progressive Democrats have their slate up here.
In Collingswood, the progressive insurgents led by our s/hero Kate Delaney, despite defending their incumbency have been pushed out to Column 5, so that party machine loyalists can be re-entrenched in power.  Don't be blinded by the line and find the real progressive candidates in Column 5!
To the Primary and Beyond!
Earning their third shout-out of the article (this must be a record), the GGCNJ has the "master list" of all candidates running for State Legislature here, County Committees here, and State Committee right over here.  You can search these lists for candidates running in your district or county and reach out to them for more information before voting on June 8th.
So what happens after June 8th?  We start gearing up to the general elections this fall and will be focusing on the progressive champions who emerge victorious on Tuesday, as well as those who will be joining the fight for key municipal races also occurring in November.  In particular we will have our eye on the re-election of Governor Murphy, the opportunity to elect an independent and progressive Mayor and City Council in our hometown of Jersey City (that would be a nice change!) and other opportunities to make a huge difference in November.  See you this summer!