Run Against the Machine highlights insurgent progressive candidates running against incumbent office-holders in New Jersey's Democratic Primary Elections. The purpose of this series is to provide visibility to upstart candidates who are disadvantaged due to New Jersey's costly media markets as well as institutional barriers erected by the county political machines. While Force the Issue NJ may choose to endorse candidates, this profile does not constitute our endorsement. We encourage you to share these articles with your friends and families so they can be better informed on their choices for the primary election.
Due to the COVID-19 crisis, the 2020 New Jersey Primary will now take place on July 7th, and will be vote by mail with few physical polling stations available. Voters registered with a Democratic party affiliation will automatically receive ballots at their registration address. Unaffiliated voters will receive a ballot application which must be returned in order to then receive their ballot. Please review this article for more information.
The 5th Congressional District borders and caps New Jersey to the north and northwest, encompassing almost all of Warren and Sussex Counties, the northern part of Bergen County (north of Route 4) and includes Ringwood and West Milford in Passaic County.
The Republican Party ruled this congressional district for 80 years until moderate Democrat Josh Gottheimer finally flipped the seat in 2016, despite Trump winning the district's presidential vote by a slight margin. Gottheimer was then re-elected by a healthy margin during the Blue Wave election of 2018. While Gottheimer has been a vast improvement over the conservative nutjob he replaced, his tenure has featured enough troubling moments, dubious allegiances and wrong-headed votes to attract one of his former campaign supporters to challenge him in 2020. Arati Kreibich is a councilwoman, neuroscientist and power-house activist who took some time out of her busy schedule to answer our candidate questionnaire below.
Please provide a brief personal sketch (name, age, education, career, how long have you lived in NJ/your district, family, hobbies/skills, membership in organizations, etc.…)
My name is Arati Kreibich, and I'm an immigrant, the first South Asian Council-member in Glen Rock, a neuroscientist, and a mom. I'm 45 years old, and my family and I moved to New Jersey about 8 years ago. My husband is a physician, and we have two sons, Neil and Jay. Our family has a dog Bailey and a cat Max. My hobbies include hiking with my family, walking Bailey, reading, and smashing the patriarchy. I'm a proud member of Moms Demand Action and a board member of a local organization, Women for Progress.
What specifically made you want to run for Congress – what was the moment of inspiration when you decided "I'm going to do this"?
From his very first vote to rollback Obama regulations on the environment and health, my current representative has disappointed us. When my Congress-member voted in July 2019 to give funding to CBP and ICE with no guardrails, just after we had learned about children sleeping in cages and the humanitarian crisis at the border, he made me as a constituent morally complicit. This moment solidified my decision to step up to bring the real Democratic
values of my community to Congress to fight for the people, not politically expedient policies. I'm running for Congress not only because my Congress-member doesn't honor my values, but also because we are living in an exceptional moment that requires bold, progressive leadership
in order to build a system that works for everybody.
Who is your number one political inspiration (i.e. writer, politician, activist?) from NJ or overall?
Maya Angelou's poetry and writings resonated with me before I realized she was an activist. Her command and expression of truth while standing up for marginalized folks, owning her experiences, speaking truth to power, and coming into her own has inspired generations. She did all of this while being kind and generous in her spirit.
How would you describe your district and what makes you best suited to represent it in Congress?
My district is mostly suburban with some rural areas, and my anti-corruption stances and commitment to not taking any corporate PAC money resonates with folks across the political spectrum. My district is now solidly blue with about 7,800 more registered Democrats than Republicans, but the only way it's going to stay blue is if we elect real Democrats who will fight for our real Democratic values. I'm not the status quo, and I'm not politics as usual; I am best
suited to represent my district because I will always fight for the working people and families in NJ-5 and across our country.
What are the top three national issues where your impact could benefit your district?
Medicare for All: Every event I go to in my district, someone has a healthcare horror story to share; we need Medicare for All so that every person has access to healthcare and will not be forced into debt to pay for healthcare.

Fighting the Climate Crisis: In New Jersey, we are particularly vulnerable to the effects of the climate crisis, and we need a Green New Deal to mitigate these impacts.

Safeguarding & Strengthening Social Security: Seniors in my district and across our country deserve to feel financially secure.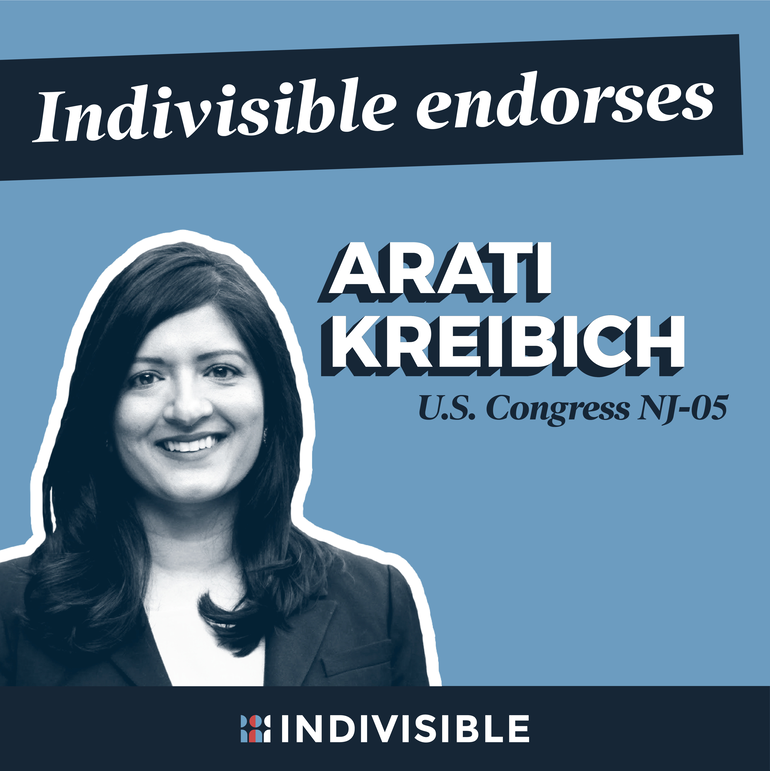 Identify three important votes the incumbent Congressperson has made where you would have voted differently.
The incumbent Congressperson voted for the border wall funding, voted for a balanced budget amendment, and voted against the Iran War Powers resolution. When elected to Congress, I will vote to protect immigrants, to safeguard our social safety nets, and to limit the president's war powers.
If you were elected to Congress and had your choice of three committees to sit on, which would be your top three?
My top three choices of committees to sit on would be: Science, Space, and Technology; Energy and Commerce; and Education and Labor.
In an election season with so many possible candidates in NJ or around the country to support, what is the compelling reason volunteers or donors should invest time or money in your campaign?
This is a campaign worth investing in, and we are already gaining national attention. I am a progressive candidate primary-ing one of the most conservative Democrats in Congress, and this race will help to define the future of the Democratic party.
How would you quantify your success so far?
This campaign has incredible momentum; we recently had our best fundraising quarter yet, and we have a strong team of volunteers who are eager to help us connect with voters. I am proud to have earned the endorsements of both my local Indivisible chapter and the national organization; Food and Water Action; the Progressive Change Campaign Committee; the Working Families Party; and a personal endorsement from epidemiologist and progressive
activist Dr. Abdul El-Sayed. I am so proud of how quickly my campaign has been able to adapt to these uncertain and challenging circumstances; in the first week of our entirely digital campaign, we made 10,000 phone calls, hosted 3 virtual fundraisers, and held 2 digital organizing webinars to bring our volunteers along into this new phase of our campaign.
Given the spread of COVID-19, how are you changing your approach to this primary?
The health and safety of my supporters and my team are my top priority. We have suspended all in-person campaign events, and my team is working from home; as a scientist with a spouse who is a physician, I understood the need to do this well before the stay-at-home orders were enacted. I am proud of how quickly we have transitioned to our digital organizing program; we are reaching voters where they are, whether through text, phone banking, virtual meet and
greets, or through giving back with mutual aid efforts.
How can our readers support your campaign?
This is truly a grassroots campaign–I'm not taking any corporate PAC or fossil fuel money. Readers can support my campaign through donating via ActBlue, can sign up to volunteer remotely and can follow us on social media: Twitter, Facebook and Instagram
.