Run Against the Machine highlights insurgent progressive candidates running against incumbent office-holders in New Jersey's Democratic Primary Elections. The purpose of this series is to provide visibility to upstart candidates who are disadvantaged due to New Jersey's costly media markets as well as institutional barriers erected by the county political machines. While Force the Issue NJ may choose to endorse candidates, this profile does not constitute our endorsement. We encourage you to share these articles with your friends and families so they can be better informed on their choices for the primary election.

Due to the COVID-19 crisis, the 2020 New Jersey Primary will now take place on July 7th, and will be vote by mail with few physical polling stations available. Voters registered with a Democratic party affiliation will automatically receive ballots at their registration address. Unaffiliated voters will receive a ballot application which must be returned in order to then receive their ballot. Please review this article for more information.
The 8th Congressional District is close to the hearts of the board members of Force the Issue NJ. Several of our board members reside in the district, including Eloy Delgado, who challenged for the same congressional seat in 2016. The district encompasses a huge portion of Hudson County, reaches into parts of Newark, and includes all of Elizabeth, Belleville and Fairview.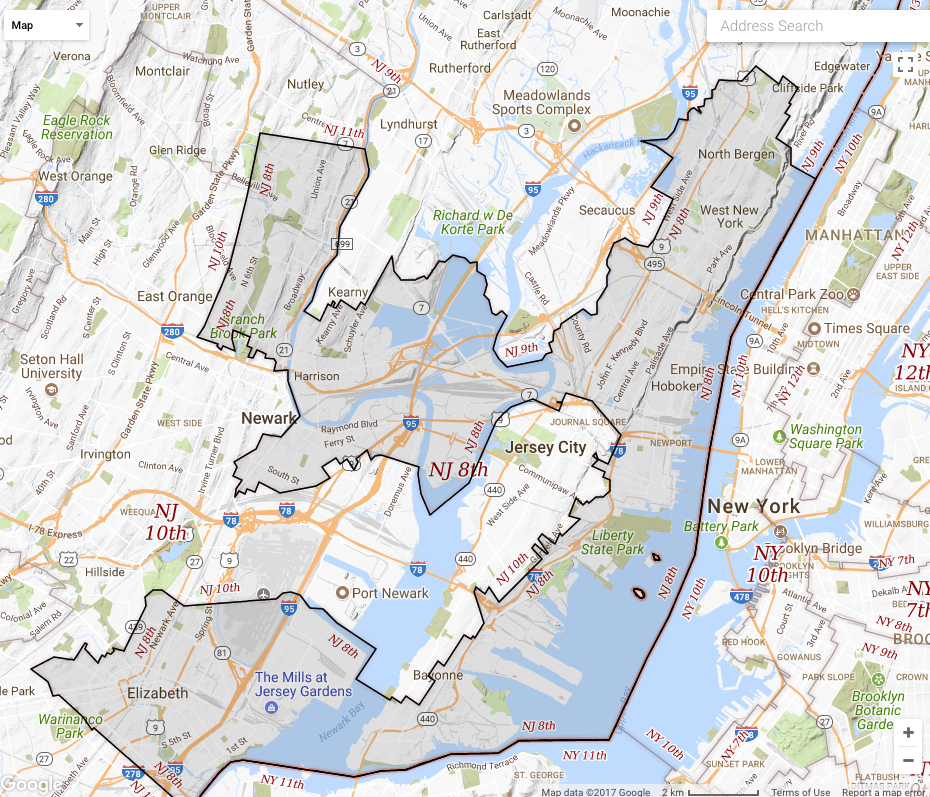 The 8th Congressional District has been represented since 2006 by Albio Sires, better known to his constituents as "Who?". The current congressman is essentially known for being virtually unknown – despite representing one of the most energetic and dynamic districts in the country. This is due largely to the fact that Sires prefers it this way – he has an almost pathological aversion to engaging with the community in a visible way – and instead meets with constituents and interest groups in private meetings, when he deigns to do so.

Mr. Sires' lack of engagement, as well as his timidity to embrace bold, progressive reforms appears to make him a mismatch for a district that is young, progressive and energized to play a major role on the national stage. However, he has proven a stubbornly tough opponent, with past challengers like Delgado in 2016 and Mahmoud Mahmoud in 2018 being unable to make a major dent in his support due largely to the consistent, if hardly enthusiastic support of Sires by organized labor and the Hudson County Democratic Organization. His opponent in 2020 is Hector Oseguera who was kind enough to take the time to answer our candidate questionnaire below.
Please provide a brief personal sketch (name, age, education, career, how long have you lived in NJ/your district, family, hobbies/skills, membership in organizations, etc.…)
My name is Hector Omar Oseguera Jr. I am 32 years old, and have lived in the 8th District my entire life. I was born in St. Mary Hospital in Hoboken and attended P.S. #6, Harry L. Bain, in West New York from kindergarten to eighth grade, followed by High Tech High School. I received my B.A. from Boston University in 2010 where I studied Political Science, Economics, and Philosophy, and completed my education at New England Law in Boston where I attained my J.D. in 2014. I am a licensed attorney in New York and New Jersey, and have worked as an anti-money laundering analyst for the past five years. My favorite hobby is collecting rare sneakers, such hobbyists are called "sneaker heads," and I have been a Freemason for eleven years.
What specifically made you want to run for Congress – what was the moment of inspiration when you decided "I'm going to do this"?
The incident which made me realize that my opponent does a poor job representing the community in NJ-08 was when I saw my opponent take a friendly picture with Iran-Contra convicted war criminal Elliot Abrams. This was after a member of his staff told immigration activists, in the midst of the detention center crisis, that "ICE does great work" and that my opponent would never vote to cut funding to ICE.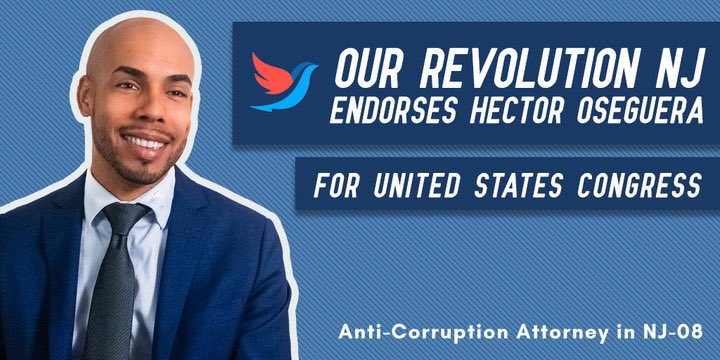 Who is your number one political inspiration (i.e. writer, politician, activist?) from NJ or overall?
Alexandria-Ocasio Cortez is a fellow Boston University graduate who accomplished what I seek to accomplish in NJ-08, knocking off a long-term corporate Democrat who has become too comfortable in his position and does little to provide leadership to the community.
How would you describe your district and what makes you best suited to represent it in Congress?
My district is a working-class Hispanic district that I am uniquely suited to lead because I come directly out of that working-class community. My family faced financial hardship growing up, so I know first-hand https://www.oseguera2020.com/en/corruptionthe struggles people in the district face on a daily basis.
What are the top three national issues where your impact could benefit your district?
Political Corruption – Voters regularly rate political corruption as a major problem in our nation, and this district is no different. I have introduced a comprehensive anti-corruption plan to combat an issue that threatens our very democracy.



Affordable Healthcare – So many people in my district fear getting sick because of the bill that comes with illness. Unfortunately, we do not have a healthcare system; we have a sickness management system meant to extract profits for the insurance and pharmaceutical industries. In wealthiest, most powerful nation on the globe, no American should go without adequate healthcare.



Environmental Degradation – New Jersey is no stranger to air and water pollution. The horror of Flint, Michigan is now a reality in Newark, New Jersey. Our leaders have been very content to take financial contributions from the fossil fuel industry, and ignore the public health risks associated with the destruction of our environment.
Identify three important votes the incumbent Congressperson has made where you would have voted differently.
H.R. 3055 116th Congress – My opponent voted for an extension of Section 215 of the PATRIOT Act – a provision that grants the federal government broad warrant-less wiretapping and surveillance powers that circumvent the Fourth Amendment's 'unreasonable search and seizure' rules. I would not have voted for this extension.



H.R. 1384 116th Congress – My opponent does not support Pramila Jayapal's Medicare for All Bill, despite being a member of the Medicare for All Caucus. I am proud to support this piece of legislation.



H.R. 2500 116th Congress – My opponent voted to give the military industrial complex a $700 billion taxpayer subsidy to build expensive bombs, and fund dysfunctional never-ending projects like the F-35, which has now cost taxpayers over $1 trillion. I would not have voted for Trump's military budget.
If you were elected to Congress and had your choice of three committees to sit on, which would be your top three?
Financial Services
Foreign Affairs
Ways and Means
In an election season with so many possible candidates in NJ or around the country to support, what is the compelling reason volunteers or donors should invest time or money in your campaign?
This race shares many similarities with the race that Alexandria Ocasio-Cortez ran against Joe Crowley. The polling website, FiveThirtyEight rates the 8th District as the most similar district to NY-14, Congresswoman Ocasio-Cortez's district. Anyone who wants to see a new generation of leadership rise up to disrupt a crusty political elite can join my campaign to make Congress more representative of the people.
How would you quantify your success so far?
The progressive activists who have expressed excitement about this campaign are the greatest measure of my success. All manner of progressive activists from immigrants' rights to environmental action have reached out and gotten on board. These activists have all been in the trenches for years, and their excitement and commitment to this campaign means everything to me.
Given the spread of COVID-19, how are you changing your approach to this primary?
The current outbreak has put a complete halt to traditional voter outreach methods. Our greatest opportunity to meet with voters prior to the outbreak was through our meet & greets. Now that all such events have become impossible, we have moved to a digital-first strategy.The campaign's outreach strategy has rapidly shifted towards phone and text banking initiatives, and fundraising primarily though social media rather than traditional call-time.
How can our readers support your campaign?
You can find me on social media – @Oseguera2020 on Facebook, Twitter, and Instagram. I am incredibly accessible online and will respond to anyone who reaches out.
Those who want to be a part of the team can go to: https://www.oseguera2020.com/volunteer and one of the team members will get in touch to set up your phone and text banking credentials.
Anyone who can chip in a few dollars to keep this grassroots effort going strong can go to https://secure.actblue.com/donate/hector-oseguera, I appreciate ever dollar that goes to making this campaign successful.